Posted on February 28, 2015 by annetarsia in Annetarsia Knits, Blog.

At Stitches West I met Amy Berman, the force behind the Mother Bear Project. This amazing organization gives knit or crocheted bears to children affected by HIV/AIDS in emerging nations.  Patterns for the basic bear are available flat, in-the-round, for knit or crochet.  They can, and are, embellished by crafters and sent to Amy, where […]

Continue Reading... Comments Off

on Mother Bear Project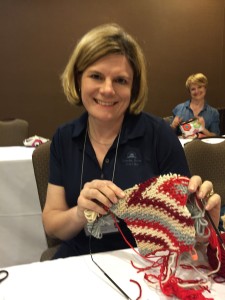 Posted on February 25, 2015 by annetarsia in Annetarsia Knits, Blog, Classes.

It's been a busy few weeks!  Lots of traveling up and down the West Coast for Madrona Fiber Arts and Stitches West.  I still haven't unpacked or sorted through my photos and experiences – but I will be sharing them with you, I promise!  Right now I am catching up at the office. Things sure […]

Continue Reading... Comments Off

on Catching up
Posted on February 8, 2015 by annetarsia in Annetarsia Knits, Blog, Classes.

I've added 2 patterns to my Ravelry store.  They are a direct result of the Simply Stunning Colorwork class on Craftsy.  The class project is a scarf worked in 2 colors, but many of the stitch patterns require (or are more fun) with more colors, so I knit another scarf to play with that.  I […]

Continue Reading... 4 Comments.