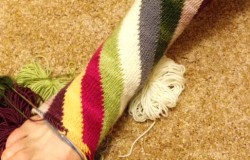 Posted on October 2, 2014 by annetarsia in Annetarsia Knits, Blog.

The prototype of the Astoria sock knit with the A Hundred Ravens Annetarsia yarn kit is working up fast.  Photos don't really do it justice, because the color moves as the sock does.  It looks different from every angle. Here is a peek at the sock from 4 directions.  I'm actually almost done with this […]

Continue Reading... 1 Comment.