Classes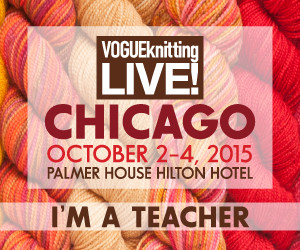 Craftsy classes!
"Next Steps in Intarsia" with me, Anne Berk!  The class covers:
-Intarsia In-the-round (ITR)
-Easy, effective ways to manage yarn supplies and eliminate ends
Learn by doing, as you knit-along with me.  We will knit 3 projects in class, and learn along the way.  The cowl is knit flat, and mitts and hat are knit ITR.
Discount code here…
www.craftsy.com/ext/AnneBerk_3998_D
The following events feature classes based on content from "Annetarsia Knits: A New Link to Intarsia".  They are designed for knitters at all levels, and the book is not a requirement for any classes.
"Simply Stunning Colorwork"
Have fun with color even if you have never tried colorwork.  We start with simple stripes and gradually create amazing texture and color, using only one color at a time.  It's fun!  Check the class announcements for coupon codes to get 2 patterns using the techniques, free in my Ravelry store.
Here is a coupon code to purchase this class at 50% discount, anytime! www.craftsy.com/ext/AnneBerk_4892_H
Annetarsia: Be the Boss of your Intarsia!
Morning – Part 1: Flat knitting (stockinette and garter stitch)
Afternoon – Part 2: ITR ("in the round")
Lion Brand Studio, NYC  Friday, Aug. 7th 9am to 4pm
The Knitting Boutique, Glen Burnie, MD, Saturday Aug. 8, and Sunday Aug 9
Anne's Class List
Annetarsia : a fresh approach to intarsia knitting
– Beginning intarsia class, knitting bags which can be felted, as a project.  Expand your horizons to conquer non-stranded color knitting. Learn ways to manage multiple yarn supplies, read colorwork charts, and to deal efficiently with the ends. Confidently link the yarns between sections to create a flat, single layer of stockinette where YOU control the color, and make beautiful motifs.  3 hour class
Annetarsia: Intarsia "in the round" (ITR)
– learn to knit intarsia in the round (ITR)
Knit intarsia in the round (ITR), with no visible seam. Learn techniques to manage yarn supplies, bury ends, and read charts when working in the round with non-stranded colorwork.
3 hour class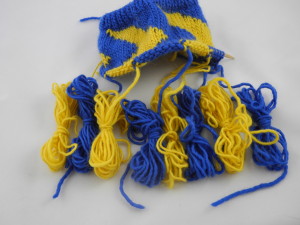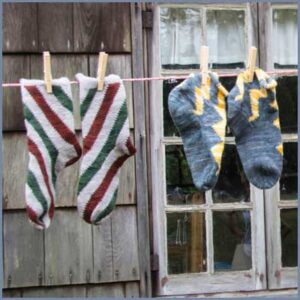 Argyle Socks
-Learn the history, construction techniques, and intarsia skills to knit this classic traditional technique  6 hour class
Bohus Knitting Tradition
– Learn the techniques for handling multiple yarns for stranded knitting, and the history of the Bohus collective.  3 hour class
Annetarsia: Intarsia Garter Stitch
-Intarsia allows knitters to paint pictures on their knitting and control color, while making a single layer fabric. Have you ever wondered why intarsia is always done in stockinette? Learn to break that rule, so that the benefits of garter stitch (reversible fabric that does not curl, and row gauge that equals stitch gauge) can be translated to your intarsia designs.
This class does not require previous intarsia experience, but the technique is trickier in garter stitch.  We will work with flat knitting, so straight needles are recommended.
3 hour class
Annetarsia: Next steps in ITR
-"Annetarsia" gives knitters tools to work intarsia "in the round", with no visible seam, allowing them to paint pictures on their knitting without stranding. For those who have played with the basic technique, and would like to use it for design, and with charted patterns, this class explores how to use ITR to full potential.
Intarsia motifs: Design and Development
-We will explore how to turn an idea, drawing or photo into a knittable chart. From graph paper to software programs, you will learn how to design to the point where you will be confident in your design BEFORE you swatch the motif, saving time and energy. Copyright issues , how to estimate yardage needed, and practical tips and tricks of design and use of charts will be covered.
This is a design class, and there is very little knitting involved.
Gauge Master class 3 hour class

-You know how the importance of stitch gauge to manage the fit and size of a garment. But knowing your Yarn Gauge (how many inches you need per stitch) allows you to measure out the correct amount of yarn for any section of your project. In class you will learn how to do the easy swatch needed for measurement and calculation. You will measure out and knit an intarsia project with the correct amount of yarn for every color used.
We also will talk about Stitch/row gauge, what it does, why it is important, and how to make it not such a chore.
Gauge is a very important tool – learn how to use it wisely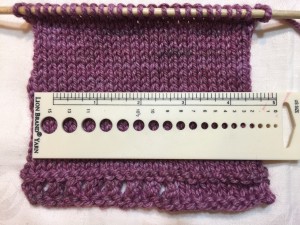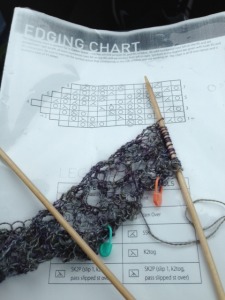 Zippers!
– 4 fool-proof steps to inserting a zipper into hand-knits.  1 hour class
Perfect Edgings: Zippers, Buttons and Buttonholes
-Edgings are an important design element, providing beauty and function. We will de-mystify the process of the perfect instillation of zippers into hand-knits. Multiple edging options from simple to more complex will be covered, the one-row buttonhole explained, and you will learn how to sew buttons on quickly and firmly. 3 hour class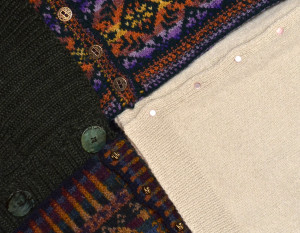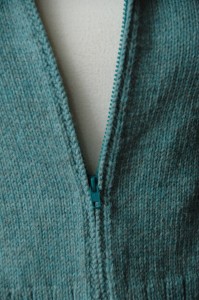 Perfect Edgings: Necklines, Collars
-Necklines frame the face, and are a focal point of any sweater. Multiple neckline options from simple to more complex will be covered, for V-neck, boat neck, scoop neck, crew neck, and collared necklines which will give your garments a professional appearance. 3 hour class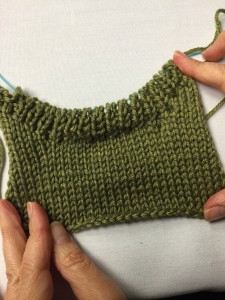 "Teddy Bear  Sweater" Finishing Fun

Knitting is fun, but finishing is where magic happens and a project comes together. Learn the fundamentals while putting together a sweater to fit a teddy bear! You will knit the back, fronts and one sleeve, to prepare. In class, we will learn 2 ways to do shoulder seams, knit one sleeve from the top down, pick up stitches for button bands, make buttonholes, and create invisible seams to assemble an adorable sweater. 3 hour class
Learning Your Stripes!
Striping multiple colors in a project is a great way to jazz up your projects using basic knitting skills. It also allows us to knit up leftover yarn from other projects. Colorwork does not have to be complicated, messy, or difficult, and this class will teach you ways to add color to your knitting using several different simple techniques. Techniques covered in class will include how to add yarn and hide ends efficiently, use slipped stitches, increases and decreases to jazz up your stripes, and several methods to create a "jogless jog" when working stripes in circular knitting. 3 hour class