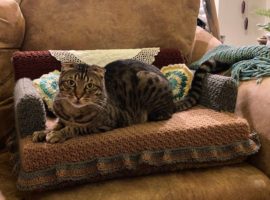 Posted on June 27, 2020 by annetarsia in Annetarsia Knits, Blog.

A few weeks ago, I saw a post from Mary Mooney with a photo of the "Kitty Couch" pattern, available at Annie's Attic. Designed by Candy Clayton, the pattern contains 3 different couches that are just the right size for a cat.  They are so adorable that it was pretty easy for Bill to talk […]

Continue Reading... No Comments.