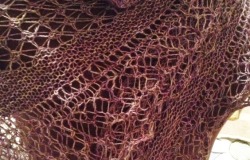 Posted on November 12, 2014 by annetarsia in Annetarsia Knits, Blog.

This lovely, lacy shawl was designed by Jared Flood.  I went up a needle size (size 7US) because I like my shawls on the large side. When I knit another version (and I will), I might go back to the size 6, as I think that would be fine.  But I love this version. The […]

Continue Reading... 3 Comments.