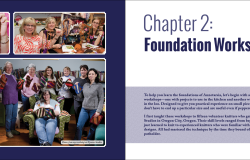 Posted on June 2, 2014 by annetarsia in Annetarsia Knits, Blog.

I asked Sarah Jaworowicz, book designer, to guest blog about how she designed "Annetarsia Knits". The PDF will go live on June 9th, one short week from today! This is the last week that the PDF will be available at the reduced pre-order pricing.  Also, as good as the book looks in PDF, it looks […]

Continue Reading... No Comments.