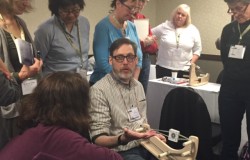 Posted on February 15, 2016 by annetarsia in Annetarsia Knits, Blog, Classes.

Learning new crafts is such fun, and a luxury when you have basically 2 careers and a full life.  I had the chance to take a class from John Mularkey at Madrona Fiber Arts, to learn basic card weaving, and I enjoyed every minute of it. I'll have to confess to my husband that I […]

Continue Reading... Comments Off

on Card weaving – Let's be a Beginner again!