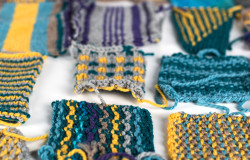 Posted on January 3, 2015 by annetarsia in Blog, Classes.

I am in love with this class.  It was tons of fun to swatch colorwork patterns that use only one color at a time.  We start with basic stripes, and then mix it up with slipped stitches, mosaic stitch and linen stitch.  I pulled out favorite garments knit over the years for examples, and knit […]

Continue Reading... 3 Comments.