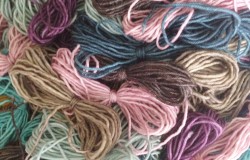 Posted on July 28, 2014 by annetarsia in Annetarsia Knits, Blog.

The response to the projects in "Annetarsia Knits" has been gratifying, and I shouldn't be surprised because I love them, so why wouldn't you?  But now you want to knit your own versions, and finding yarn is proving to be a problem.  Annetarsia is a place to use leftover yarn, and small amounts.  A design […]

Continue Reading... 3 Comments.