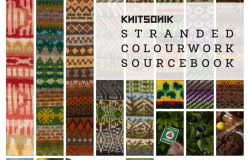 Posted on October 31, 2014 by annetarsia in Annetarsia Knits, Blog.

Donna Druchunas drew my attention to the work of Felicity Ford, a creative British knitter who wanted to publish a book on stranded colourwork design. She needed funding, so ran a Kickstarter campaign, which I immediately joined.  At the time, I was also working to publish "Annetarsia Knits", so I felt a real kinship with […]

Continue Reading... No Comments.