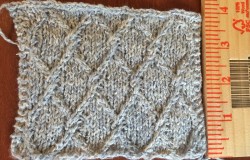 Posted on November 2, 2015 by annetarsia in Annetarsia Knits, Blog, Classes.

I love teaching, I really do: Meeting new people, sharing what I love, taking every teaching opportunity as a chance to improve the class experience for knitters.  I am very, very lucky to have the chance to participate in events as a teacher, and I appreciate it very much.  BUT, teaching every session means that […]

Continue Reading... Comments Off

on A chance to be a student? I'll take it!