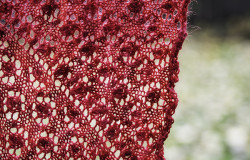 Posted on November 4, 2015 by annetarsia in Annetarsia Knits, Blog.

It's a good thing that Brooke Nico and Carol Sulcoski of Black Bunny Fibers have teamed up.  Brooke's designs and Carol's hand-dyed yarns are a match made in heaven.  At the VKLive Chicago market, I decided to find yarn to knit a sweater from  Brookes' book "Lovely Knitted Lace".  She and Carol had a "Sip, […]

Continue Reading... Comments Off

on Black Bunny Fibers + Floral Tunic = Perfection!