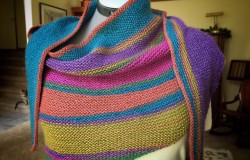 Posted on July 27, 2015 by annetarsia in Annetarsia Knits, Blog.

Caterpillar Green yarns have been on my radar for awhile.  The last straw was seeing Stephanie Pearl-McFee knitting with it at YarnFest. She was crazy in love with it, so I put it on my list of things to check out.  I  signed up for the mailing list, and when a shop order came up, […]

Continue Reading... Comments Off

on Caterpillar Green love
Posted on July 10, 2013 by annetarsia in Blog.

Knitters are very generous people, and we love to support good causes.  This particular one resonates strongly with me because feeling safe when running is something that I take very seriously, as well as crimes against women.  I have been knitting with Dream in Color yarn lately, as they have generously supported the Book with […]

Continue Reading... 1 Comment.