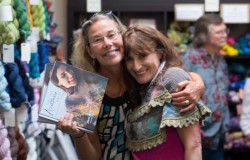 Posted on August 2, 2014 by annetarsia in Annetarsia Knits, Blog.

Last night, Twisted rocked with laughter and fun, as we celebrated "Annetarsia Knits" launch into the world.  So many people were involved with creating the book at different times, that many hadn't met each other.  And, of course, they are all wonderful, interesting people, so it was a great party.  Test knitters met photographers and […]

Continue Reading... No Comments.