Sandra's wonderful Annetarsia Socks!
Sandra took an Annetarsia class last year at Interweave Yarn Fest, and she wrote to me recently about starting a pair of socks worked ITR.  I asked her to send me photos when she finished, and today – she did!  They are knit with Regia from stash, and she put her own spin on the pattern, incorporating the "FishLipsKiss" heel, by SoxTherapist.  They look a lot like my Astoria socks (photographed here, in the sock blockers), but have a very distinctive Sandra flair.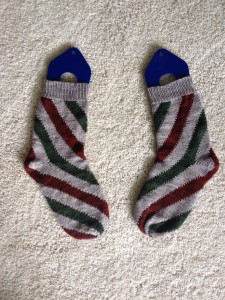 Nothing makes me happier than to see a knitter incorporate my techniques into their knitting, and make them their own. You can find Sandra on Ravelry as "sandrajn", and "SoxTherapist" by clicking the link above.