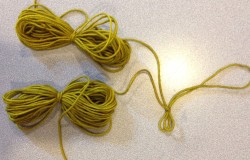 Posted on May 31, 2014 by annetarsia in Annetarsia Knits, Blog, Classes.

I'm getting requests for more information about how to actually create the Yarn Butterflies (YB's) for "Bold Move". As it happens, I am preparing to make a second version of the project.  The MC is bright purple and the CC is Neon Green, so I am calling it "Bolder Move". So, I photographed the […]

Continue Reading... 1 Comment.