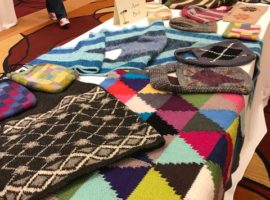 Posted on February 21, 2018 by annetarsia in Annetarsia Knits, Blog, Classes.

I look forward to February every year, because it contains 2 of my favorite fiber events: Madrona Winter Retreat, and Stitches West.  First up was Madrona, and although it is always wonderful, this year the vibe seemed especially up-beat and relaxed. I've been knitting with Marly Bird's Chic Sheep yarn for Red Heart, for months.  […]

Continue Reading... Comments Off

on Madrona Fiber Arts Winter Retreat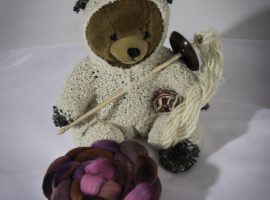 Posted on March 7, 2017 by annetarsia in Annetarsia Knits, Blog.

I've tried spinning, a few times.  It never went particularly well. My most successful experience was using a friend's spinning wheel, which was fun, meditative, and fed my love of handmade wooden tools.  But 1) it was pretty big, 2) my husband noted that I already had a lot of yarn and really didn't need […]

Continue Reading... Comments Off

on The Drop Spindle experiment
Posted on February 16, 2014 by annetarsia in Annetarsia Knits, Blog.

Annetarsia Knits would not exist without Madrona Fiber Arts.  I was inspired to develop the ITR technique by Madrona students.  I taught ITR for the first time, at Madrona, and students helped to refine the technique (thank you,especially,Valerie McPherson!).Cat Bordhi saw me doing ITR,said I had to write a book, and invited me to join […]

Continue Reading... No Comments.