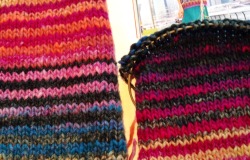 Posted on December 10, 2014 by annetarsia in Annetarsia Knits, Blog, Classes.

It's Christmas central at my house, as Christmas gifts are flying off my smaller looms.  I find weaving very satisfying and am loving every minute. My big box of yarn arrived from WEBS yesterday, and I cast on for the A-line tunic in Kureyon.  This is going to be a quick, fun knit.  That's good, […]

Continue Reading... No Comments.
Posted on December 5, 2014 by annetarsia in Blog.

It seems like awhile since I've knit a sweater.  I've been knitting lots of smaller projects in the past year – shawls and socks.  There have been good reasons for this, but when I was knitting only to please myself I was generally drawn to larger projects: sweaters, afghans, and more sweaters.  I don't really […]

Continue Reading... No Comments.