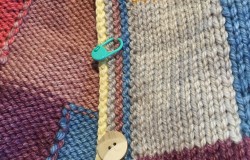 Posted on July 1, 2015 by annetarsia in Annetarsia Knits, Blog, Classes.

The knitting is done, ends are all buried, but there is still an important task to do before finishing a cardigan.  Picking out the right buttons, and sewing them on. I searched through my button stash (yes, of course I have one!) and found the perfect button.  It fits well into my simple "k2tog, yo" […]

Continue Reading... Comments Off

on Buttons for "Sassy"!