Sock Summit memories
Word is spreading that there will not be another Sock Summit.  I am sad, but not surprised. This was a world-class, huge event which was basically designed and run by two people who have very busy lives and work schedules, and live 3000 miles apart.  The fact that Tina Newton and Stephanie Pearl-McPhee could make this happen once was amazing – let alone twice.  Sock Summit was hugely important to me, personally and professionally.  I looked back into my archives and pulled some photos to share.  These are just from Day Two of Sock Summit '09.  Every day was filled with amazing moments like these.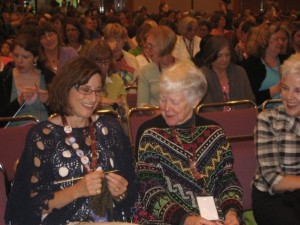 Sitting next to Barbara Walker! Barbara is wearing a sweater knit with Mosaic Knitting, a technique that she invented.  I was knitting a Nancy Bush design, an Estonian shawl. Every time I wear it, I think of this moment.