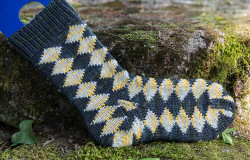 Posted on August 29, 2014 by annetarsia in Annetarsia Knits, Blog.

Now that "Annetarsia Knits" is out in the world, I'm hoping that some knitters will be ready to walk on the wild side with me. So I am pulling out some projects that were a bit too much for the book, and finishing them up. The mate to my Ultimate Argyle sock came off the […]

Continue Reading... 1 Comment.