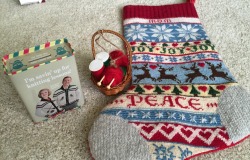 Posted on December 26, 2014 by annetarsia in Annetarsia Knits, Blog.

We had a wonderful Christmas! The day was made brighter by Craftgossip.com and their readers, who put sales of Nancy's ColorPlay bag over the 150 mark.  I matched all contributions and sent a check for $600 to Doctors without Borders.  I hope that sales continue into 2015, and we can keep the contributions coming. Christmas […]

Continue Reading... No Comments.