Smooth operator Socks – a Fun summer knit!
My friend Susan Anderson released a pattern for a smooth stockinette sock which showcases self-striping yarn.  I happen to have a stash of such yarn, and jumped at the chance to check out this pattern, the Smooth Operator sock.  The yarn is by Canon Hand Dyes. I don't know the colorway, but it is a William Self-striping sock yarn. Generally, I knit longer socks and aim to use most of the skein for one pair, but Susan's pattern suggests a shorter sock, so I went with it.  After knitting the first one, I had a feeling that I might be able to get 2 pair from one skein.  BUT, could I do this and match the striping, also?  Maybe, but I hedged my bets and used a different yarn for the cuff of Pair #2, and I knit socks 2, 3 and 4 without heels, thinking I could have different heel yarn as well, if needed.
But it worked out great!  I have only a few yards left, but knit 2 pairs of socks, and I love them.  They are thin and not too warm, great for knocking about in sneakers.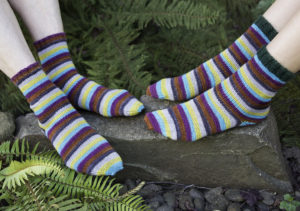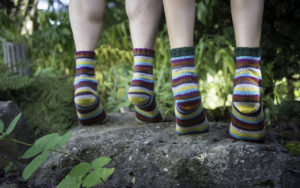 Save