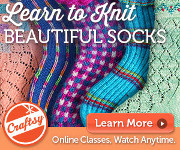 Posted on October 25, 2014 by annetarsia in Annetarsia Knits, Blog, Classes.

My hip is getting stronger, and I am walking without pain, now.  So, it is time to get ready to run.  I'm starting out slowly, walking on the treadmill.  This seemed a great opportunity to take some Craftsy classes.  Watching great teachers makes me a better teacher, and I don't get to take classes anymore, […]

Continue Reading... 1 Comment.