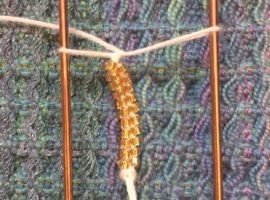 Posted on October 20, 2016 by annetarsia in Annetarsia Knits, Blog.

Yesterday was filled with a busy work day and a Presidential debate (NOT a good time to practice new skills!).  Today, when I picked up my work to tackle Day 4's challenge, I was happy to find myself falling easily back into cord-making.  Today's challenge was making a cord with pre-strung beads.  Look at what […]

Continue Reading... Comments Off

on #7DayLucetChallenge Day 4- Look what I did!