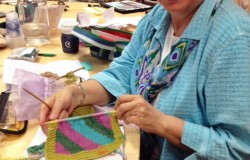 Posted on September 28, 2014 by annetarsia in Annetarsia Knits, Blog, Classes.

Here is a run-down of my week – an overview, because lots happened and there will be more details later on specific things I 've been working on Craftsy filming – Such a great experience, and I thank everyone at Craftsy central who helps make my dreams come true.  I loved preparing and presenting this […]

Continue Reading... 2 Comments.